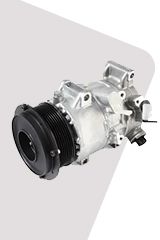 Car Air Con Compressor, Air Con Pump, Vehicle AC Compressor
In need of a new car air conditioning compressor? Air con pump? Vehicle AC Compressor? We stock thousands of car air con compressors at discount prices, all brand new with a 2 YEAR warranty and free 24 hour deliver for all makes and model of car, truck and agricultural vehicle. Choose your car from the vehicle selector.
The air con compressor, or air con pump as sometimes called, is the driving force of your car air conditioning system. It pressurises the refrigerant turing it from liquid into gas and as a result can often fail. Before fitting a new compressor find out why the existing one failed as otherwise unless the cause of compressor failure is rectified, the replacement will also fail.