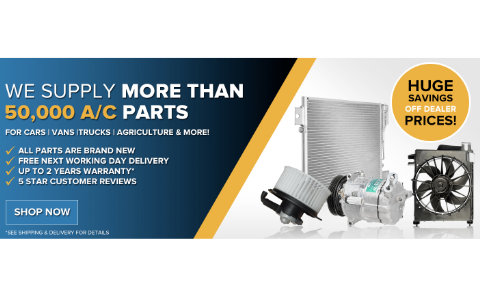 Almost 50,000 car air conditioning parts available
Since 1988 we've been one of the UK's foremost car air conditioning specialists, building now to have almost 50,000 car air conditioning parts available for all types of car makes and models, of all ages, as well as air con parts for trucks and agricultural vehicles.
All our parts are brand new. We don't sell second hand. Which is why we offer up to 2 years warranty. In stock we have over 8,000 car air con condensers (otherwise known as air con radiators), almost 12,000 brand new car air con compressors (aircon pumps), as well as over 8,000 receiver driers (accumulators), plus hundreds of aircon consumables, such as oils, uv dyes and o rings. All come with FREE next working day delivery if you spend over £40 and of course our warranty.
Every part we sell is fully tested before despatch, to ensure that when you receive your order you can install it without any problems. That's why we have a customer review score of 4.9 from almost 1,000 genuine customer reviews from our customers.
Note that when purchasing a compressor, we often offer 2 versions. The original, which is the same as you get from the main dealer, and a copy. Both of course brand new units with a years warranty. On air con condensers, the majority are aftermarket units, eg purchased from a 3rd party manufacturer but to the genuine OEM (original equipment) specification. We only source high quality condensers to ensure we can offer a 2 year warranty on condensers and maintain our excellent customer service. No cheap Chinese imports here like you see on eBay and other websites. You get what you pay for.
We're often also asked if we can fit the parts we supply. Yes, we can. We have a growing network of car air conditioning specialists across various parts of the UK who can service, repair, re-charge (regas) your car's air conditioning as well as fit the parts we supply. Check our website at Cool Car to see if we have a specialist near you and contact them directly if you need help. All our technicians are fully qualified air con specialists with the relevant legal qualifications.
If in doubt about anything, or just have a question, then feel free to call or contact us anytime.